CLOUD-BASED MONITORING SOLUTIONS FOR SOCIAL STARTUP
Executive Summary
As a powerful player in the African market, our client handles multiple socially-oriented missions under one roof. The company is committed to promoting digital innovation and entrepreneurship in Africa. The organization works with startups and small businesses to provide mentorship, training, and access to funding opportunities and drives economic growth and development across the continent. Accordingly, such complex and precise services require an efficient monitoring solution to ensure the accuracy of the delivered outputs. Therefore, the Matoffo team designed a powerful cloud solution that perfectly meets customer needs.
About the Client
Our client is a leading-edge company based in Nairobi, Kenya. With a mission to empower businesses and individuals with the latest technologies, this unique organization is committed to reducing the costs of living for African consumers. With the most relevant B2C eCommerce model for the urban majority in Africa, the ultimate goal of our client is to provide users with the support and guidance they need to save on their grocery baskets. Leveraging technology to drive economic growth, the company strives to build a more prosperous and equitable African society of the future day. Thanks to generous donations from manufacturers, distributors, organizations, and individual donors, our client transforms funds into lower prices, better quality items, and a larger range of products.
Customer Challenge
When it comes to companies that follow an important social mission, just like our client, a solid technology foundation is a must. Hence, without a proper monitoring solution, the company faced difficulties ensuring their systems were up and running with minimal downtime. At the same time, the lack of robust monitoring activities resulted in delivery delays since the company could not process multiple customer orders simultaneously.
With this in mind, the client decided to boost the availability, performance, efficiency, and flexibility of their services by implementing a next-gen monitoring solution intended to increase revenue and reduce costs for the organization. Moreover, as our client grows and expands, a cloud-based monitoring solution could help them scale their infrastructure, ensuring their systems would be able to handle increasing workloads and traffic volumes.
Why AWS
AWS is a leading cloud computing platform that offers a wide range of monitoring and logging services. The key advantages of utilizing AWS for monitoring are real-time monitoring and alerting capabilities for various system metrics, including CPU utilization, memory usage, and network traffic. What is more, AWS also offers automated scaling and load balancing, which help ensure your system is always available and responsive. As a result, AWS is an excellent choice for monitoring solutions due to its scalability, availability, flexibility, security, and cost-effectiveness. These benefits make it an ideal platform for organizations seeking a reliable, scalable, and customizable monitoring solution to ensure the performance and availability of their cloud-based infrastructure.
Why Matoffo
We understand that each organization has unique monitoring requirements, so we work closely with our clients to design and customize monitoring solutions that meet their individual needs. Additionally, with a team of experts available 24/7, Matoffo provides exceptional customer support, which means our clients can rely on our team and get timely and responsive support whenever they need it. Summing up, partnering with a cloud development provider like Matoffo can offer businesses a range of benefits, including increased flexibility, cost savings, access to expertise, and enhanced security.
Matoffo Solution
The main objectives of our DevOps engineering team lay in choosing the monitoring solution for our product and applications and building an alert system to notify developers in case of any failures. Bearing these crucial goals in mind, we selected a Prom stack since it contains everything right out of the box.
In a nutshell, Prometheus is a time-series database and monitoring system that collects and stores metrics from various sources, such as Kubernetes nodes, pods, and services. Leveraging this robust tool, we implemented querying and alerting based on the collected data.
Besides, Grafana is a web-based visualization tool that provides a rich set of interactive graphs, charts, and dashboards for analyzing and presenting the collected metrics. Since it efficiently integrates with Prometheus, we managed to add comprehensive functionality so that users can easily customize and share dashboards.
Finally, we utilized Alertmanager, an open-source monitoring system with a dimensional data model, flexible query language, efficient time series database, and a modern alerting approach.
To complete this solution, we used the following tech stack: AWS, Prometheus, Grafana, and Alertmanager. The development team included three Senior DevOps engineers responsible for different processes. In general, it took us about one week to build this solution across all environments and one more week to complete deep configuration and custom alert rules to react to all incidents in a fast and efficient manner.
Business Value
Even though this solution may be described as a thorough development process that resulted in a high-performing monitoring solution, our team perceived this project as a significant contribution to the client's global social mission. Thus, we managed to bring business value in the following aspects:
• High Availability & Improved Performance
Thanks to our solutions, the client can access real-time monitoring and alerting of key metrics to ensure the proper performance of the EKS cluster and the applications running on it. As a result, this can lead to improved customer satisfaction, reduced downtime, and increased revenue.
• Rich Visualizations and Dashboards
Prometheus and Grafana enable better insights into the behavior and performance of the EKS cluster and the applications deployed on it. Hence, it is possible to identify bottlenecks and areas for optimization.
• Cost-Efficiency
With our monitoring solution, the client can avoid vendor lock-in and reduce their dependency on proprietary monitoring solutions, which can be costly and inflexible. This can reduce overall costs and provide more flexibility regarding the choice of cloud provider or infrastructure.
Client's Feedback
The solution developed by the Matoffo team has proven to be highly reliable, accurately alerting the client in case of any issues with the system. Furthermore, this intuitive, user-friendly dashboard provides the company with customizable options that perfectly suit their business needs. Considering the above, the client wholeheartedly recommends our cloud development company to anyone seeking a dependable and customizable monitoring tool.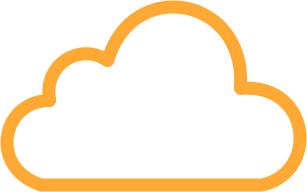 OUR FOCUS IS
CLOUD SOLUTIONS
Our primary goal is value delivery for the client by resolving technical challenges and assisting them to achieve their objectives. AWS cloud solutions are great toolset which we use to make it happens, primary by outstanding agility, where companies could scale up cloud resources as needed and significantly decrease time from idea to market as well as seamless adopt rapidly growing tech capabilities to transform their businesses to be competitive in the market.
Tell us about your business needs